Welcome to the Villa Joyosa Apartments web site.
Villa Joyosa is a beautiful, coastal, fishing town between Alicante and Benidorm. It boasts one of the best kept beaches of white sand in Spain and has a traditional Spanish and uncommercial atmosphere. Villa Joyosa is steeped in history and architecture and provides a tranquil and romantic setting for a holiday. To take a look at their web site, click on the link below.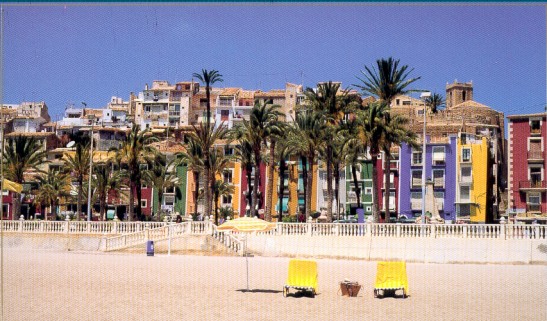 We are a family run business and are always on call for our customers. Our apartments sleep from 2-10 people and are extremely reasonably priced. They are a stones throw from the beach and offer all necessities to make for a comfortable stay.
The nearest airport is Alicante and is just 30 minutes away. Terra Mitica theme park is very close by and offers fun and entertainment for the whole family. Click below to view their web site. Demonstrating its popularity and beauty 'Eastenders' was filmed here in August 2000.
All our apartments are situated in the old quarter's colourful, seaside strip with fantastic sea views and plenty of charm ( pictured above). The strip also contains plenty of bars and restaurants and has a precinct just outside. The town centre is just a short walk away, as is the marina. To find out more about Villa Joyosa, click on the link below.